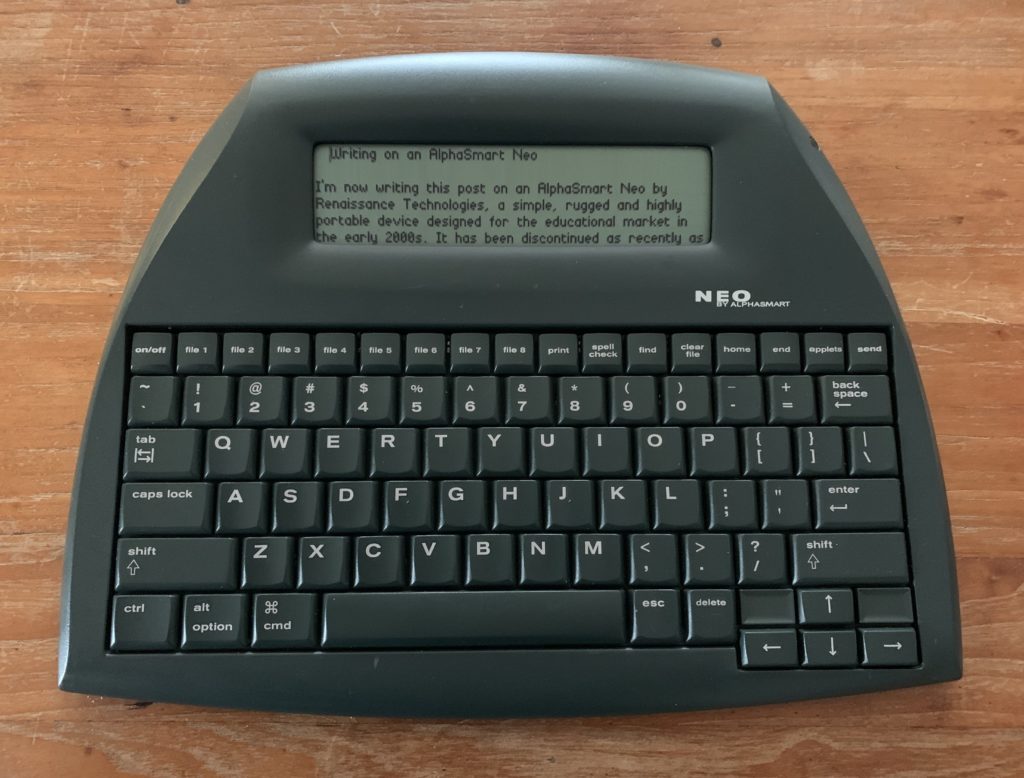 I'm now writing this post on an AlphaSmart Neo by Renaissance Learning, a simple, rugged and highly portable device designed for the educational market. The first Neo was launched in 2004, but the company and the devices go as far back as 1993. It has been discontinued as recently as 2013, and the company no longer provides support for it. The Neo is what can be called a 'digital typewriter', or more accurately a word processor without printing capability. It has a full-size keyboard and a text-only black and white liquid crystal display that can display a maximum of six lines of text at a time. It has two USB ports, one for connecting to a printer and the other for connecting to a computer. Its memory can hold eight text files (accessible by through eight keys on the keyboard) and up to 200 pages of text. It has built in spellcheck, thesaurus, word count, and search and replace, and educational 'applets' can be installed through the Neo Manager MacOS app. It was designed as an inexpensive educational tool for teaching writing, but also works very well as a distraction-free writing tool. It can only do plain text – no bold, italic, underline or any form of semantic structuring – which serves the purpose adequately (but Markdown codes could easily be incorporated as you're typing). You can select text, cut/copy and paste and generally move things around easily, using standard Mac keyboard shortcuts. It does not have wifi connectivity, so to transfer your text to a computer, you'll need to either install the Neo Manager app mentioned above, or simply connect the machine to a computer with a USB cable, then have a word processing document opened and hit the 'send' key, the text will directly be sent to the document via keystrokes (interesting to watch but the process is slow).
Apparently distraction-free writing is favoured by many, and there are plenty of apps designed for that, the most popular being IA writer. But in fact any plain text editor is capable of doing that. More importantly, 'distraction-free' refers to the lack of functionality and connectivity so that you can focus on your writing instead of checking your social media feeds, etc. I don't think that makes sense at all, because you can always take out your phone or tablet and do just that anyway. Self-discipline is what it takes, not yet another device. The Neo does allow one to focus on writing rather than editing, which is a good thing.
I didn't pay a lot of money for this device, though with shipping to Hong Kong it amounted to around $400 Hong Kong dollars. The device itself was only $25 US. A similar (but less capable), more recent crowdfunded device, the Freewrite, costs $549 US. Yes, it has an e-ink display and a Cherry MX brown switch keyboard, and can sync to cloud services through wifi, but it is still way too overpriced for a single-function device (no cursor, nor any editing capabilities – seriously?). It does have a cool factor that the Neo doesn't have – it's called a 'hipster typewriter' for a reason I guess. I can see myself taking the Neo out to a cafe to write, and leave my iPad Pro at home. While my iPad Pro does get a lot of use for note-taking, document viewing, web-browsing and so on, I have not been using it much for writing, if at all (beyond emails). Its low-travel membrane keyboard is just not pleasant to type on. I can see myself using the Neo a lot for everyday writing: to write in focussed mode when I'm on the go, then transfer the raw text into Scrivener (for long-form writing) or Byword (for blog posts) for further structuring and editing. It could become part of the workflow quite nicely.
(first draft written on an AlphaSmart Neo, final draft in Byword)