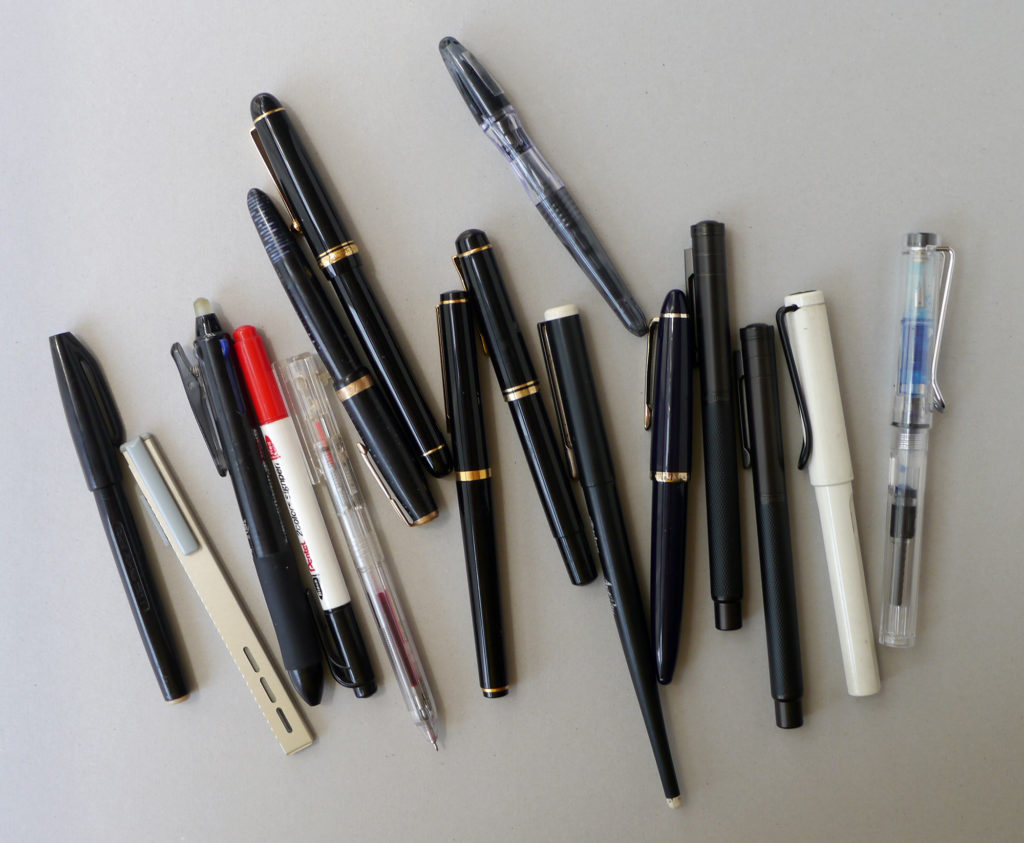 Yesterday morning I started a pen journal and wrote 14 entries using 14 different pens that I have. Rarely do I write continuous prose out entirely in longhand, yet ideas and words flowed just as easily as typing on a keyboard. Edited final draft below, illustrated by first drafts and the respective pens discussed. These are in no particular order; all but the last three are fountain pens.
1 Pilot Pluminix


Although really cheap, this Pilot Pluminix fountain pen is high quality and writes smoothly. The grip is comfortable with two indentations for the thumb and index finger to rest on. The pen has a short barrel, 12 cm with the cap on. The cap is screw-on and does not have a clip, but has two protrusions that keep it from rolling off the desk. The 'F' nib is in fact a narrow (around 0.5mm) italic (stub) nib, ideal for everyday handwriting. The thin strokes are quite fine, which is rare for an italic fountain pen. One of my favourite pens here. Here's a review of this pen
2 Parker Vacumatic


This pen is amongst a bunch of old pens that my parents passed onto me. I had never tried writing with it until today. Apparently dad bought it some time ago, secondhand. On the barrel the words 'Geo S Parker / Parker Vacumatic, made in USA / 63' are blind stamped onto it. Some Googling revealed that it is a 'Blue Diamond' made between 1942–48. Quite a beautiful pen. After writing for a bit the ink seems to flow quite well. The nib is gold-plated, with the words 'Artus radium point 93' written on it. It is a little worn from use, I guess adapted to the writing angle of its previous owner.
3 Pelikan c1992


My parents bought me this Pelikan fountain pen before I left Hong Kong for the UK in 1992. It has a simple glossy black barrel with gold trims and clip. It was bought at a pen shop on the ground floor of the old Man Yee Building on Pottinger Street, which of course is long gone. Going overseas to study was a big deal in those days, and this expensive pen was a parting gift. The piston action for ink filling in this pen is fantastic: unscrew, dip in ink, screw tight, and it fills right up. The nib is gold-plated, a Pelikan 120–500, HEF. I used this pen for my school work throughout secondary school and the nib is very worn, giving thick and thin lines. The line weight has become too heavy for my taste. It has always been slightly scratchy to write with.
I used to use the Parker 'Quink' blue–black ink with this pen. At one point I switched to washable blue so that mistakes could be corrected using a bleach ink-eraser and overwritten with a felt-tip of a similar colour. I never did like the purplish blue though. This ink is Lamy's black bottled ink, which is a beautifully dense black.
4 Hong Dian forest series


This is a recent find on Taobao, a sleek black titanium fountain pen with contemporary styling made in China. How they can charge only ¥46 RMB is beyond comprehension. The pen feels heavy on the hand, possibly a good thing. The build is very solid, with a criss-cross texture on the barrel. This one is fitted with an 'EF' nib quich is quite fine and works well with my regular writing size. It writes very smoothly, probably the smoothest amongst all of the fountain pens I own. When you put the cap on there is a very satisfying click, an added bonus. The piston action convertor works well, and I've filled it up with the black Lamy ink.
5 Hong Dian forest series with a Chinese calligraphy nib



This is identical to 4 but fitted with a Chinese calligraphy nib. Not to be confused with a brush, a Chinese calligraphy nib is like a regular pointed nib but bent at an angle. This type of nib probably look a bit strange to Western eyes. It is designed for imitating the thicks and thins of Chinese/Japanese calligraphy by varying the angle at which you hold your pen (in brush calligraphy one varies the pressure to vary stroke widths). Of course you can use it to write in Latin or other scripts.
6 Sailor Profit calligraphy fountain pen



This is the same type of pen as 5, but Japanese-made. I first came across this type of pen at Tokyu Hands in Japan, where I bought it from. The ¥2100 JPY price tag isn't exactly cheap, but in terms of quality it is comparable to 5. The angle of the bending is shallower, which means that one needs to hold it almost upright to get thin lines. It also means that a much thicker stroke can be produced.
7 Pilot Custom 74


This is probably the most expensive fountain pen I've ever bought. I bought it from a large stationery store in Sapporo, Japan (remember to seek out stationery stores when you go to Japan!). Japanese people do like their fountain pens, and Pilot and Sailor are the two most popular brands. Incidentally in Japan they call fountain pens 万年筆, literally 'ten thousand year pens'. This series from Pilot is traditional in styling with a glossy black barrel and gold trims and clip. The nib is gold-plated. This series offers a wide variety of nib types with a range of thicknesses and degrees of flexibility. This particular nib is very flexible, so flexible that you can write copperplate script with it. The stroke width will transition from thin to thick by applying pressure on downstrokes. This is a very high quality product that writes very smoothly.
8 Lamy Safari


The Lamy Safari fountain pen is a classic design by Wolfgang Fabian. The bold, modern design won an IF design award in 2007. The nib is stainless steel, and I replaced the original fine nib of the two I have with 1.1 mm italic nibs. I own an orange one and white one (hard to keep clean). The series comes in all sorts of vibrant colours, and they keep introducing new ones. The design of the Safari is easily one of my all-time favourites, though of reasons unbeknownst to me, the two that I own never did become my everyday pens. This ink is Lamy's Turquoise T52 bottled ink, which I use with the excellent piston action convertor. This colour is simply gorgeous, and is very dense. The industrial design of the bottle is also beautiful, with a 'valley' at the bottom so that one can get to the last remaining drop. A roll of perforated blotting paper is rolled into the base for wiping excess ink off the nib after filling – very considerate.
9 Memory, a Safari knock-off


No idea why this pen made the list, but here you go. This fountain pen came free with the Hong Dian black titanium pens. It looks exactly identical to the Lamy Safari with a clear barrel. The quality of the finish is nowhere near as refined however. The only redeeming factor is the smoothness of the 'F' nib – it writes really well. The ink is Sailor's 'Shikiori', in Yuki-akai 雪明. The ink is way too thin and watercolour-like, not great for writing.
10 Rotring Art Pen


This is Rotring Art Pen is fitted with an italic nib. The styling looks dated by now, very 1980s. Hard to believe that this was my everyday pen during my art school years. My writing was much larger then. The 6mm line rules feel far too narrow for a pen this thick. This is supposedly the same thickness as the Lamy Safari (1.1mm), but apparently not. The nib is so worn from heavy daily use that the thin strokes have become quite thick. Rotring used to make a nib-sharpening stone, but I never bought one. The long staff/barrel serves no practical purpose, other than imitating a traditional calligraphy dip-pen. This supposedly black cartridge is too feeble. The original Art Pen 'Jet Black' cartridges were extremely dense.
11 Osmiroid


Back in 1993, I won first prize at the Osmiroid national schools calligraphy and handwriting competition in the UK. Part of the prize was a 'luxury' set of Osmiroid calligraphy fountain pens with a wide variety of nibs. The pens were cheaply made with poor quality plastic and finishing, poor ergonomics and with really poor ink flow. Never did use them much at all, though I still have them. This particular one is of slightly better quality that I bought from a close-out sale of a stationery store here in Hong Kong around seven years ago. It's very uncomfortable to hold, hence I'm wiring at a weird pen angle. The Osmiroid pen company apparently dates back to the early nineteenth century, founded by educationist James Perry. It was bought by Berol Limited in 1989, and it doesn't look like the brand exists anymore.
Cheap, everyday pens
12 Muji multifunction gel pen with mechanical pencil

I'm not a fan of fountain pens for everyday writing, and I'm not fond of ballpoint pens either. Real ink from a gel or roller ball pen is what I prefer. Clean lines and quick drying ink are important. I've experimented with many (mainly Japanese) brands, and find that Muji's clear barrel muiltifunction gel pen with mechanical pencil to be the best. As of today, I don't see this pen in their online catalogue anymore. Good that I still have a large stash of refills in my drawer.
I think it was Roger Black who said that if the first colour was black, then the second colour would be red. This is true with early manuscripts, letterpress printing (the word 'rubrication' means the addition of red, for both manuscripts and early incunabular) as well as in manual typewriters. Red is very useful for differentiating content and to provide an additional layer of information. That's why in my multifunction pen I have red and black inks, and with a mechanical penil as well, my arsenal of writing implements is complete. I find 0.4mm to be ideal, for my current size of handwriting on 6mm ruled paper. The pencil is 0.5mm with HB lead, for tentative thoughts and mark-making, say, constructing a grid for a page layout.
13 Pentel Sign Pen


To extend the repretoire a bit, I also used to carry a double-tip Pentel Sign Pen around with black and red ink. This is a thick felt-tip for those ocassions where further emphasis is needed, and for sketching and ideation. This is a variant of the classic Pentel single-colour Sign Pen debuted in 1963.

14 Pilot Frixion four-colour


For awhile I also used another multifunction pen – the Pilot Frixion with four colours. It is a hugely popular product. The ink is thermal sensitive, and the heat generated by rubbing with the silicone eraser provided removes the ink marks without residues. This series comes in many variations, but styling of the four-colour multifunction one is ugly, and the ink feeble. Though to be fair the thick barrel with rubber grip is actually quite comfortable to hold. The Frixion series won a Good Design Award in 2015. Overall it's a very good series of products.
The pen I use the most these days is the Apple Pencil. Incidentally the nib broke off while I was putting this post together. I had to buy a pack of replacements nibs, $140 HKD for four. With a price tag of $999 HKD plus the replacement nibs, it really is the most expensive pen I have in my possession.
With a smartphone always by our side these days, it might not be necessary to carry pen and paper in our pockets anymore. The iPad with Apple Pencil has certainly revived handwriting and has taken it to a different level. Yet its experience is still nowhere as palpable and direct as pen and paper, technologies that don't require power nor an operating system that will always be there.
More musings on writing in the next post.
(first draft written by hand, final draft in Byword)